Put Toyota RAV4 Efficiency Features to the Test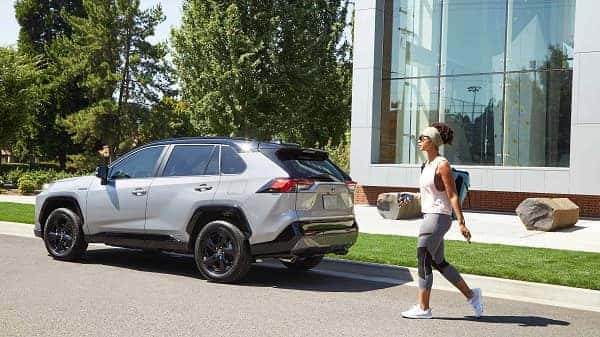 The Toyota RAV4 MPG isn't the only reason this exciting new vehicle is perfect for all your efficiency and low impact driving needs. Here at Toyota Chula Vista, we carry a wide range of innovative and exciting new vehicles with the latest in performance, entertainment, and safety technology, and the Toyota RAV4 really delivers. This car is equipped with exciting efficiency features that you can put to the test today.
Efficient-Driving Features in the Toyota RAV4
Driving efficiency is more important than ever, and that's why the new Toyota RAV4 comes equipped with efficient and low-impact driving features that you won't want to miss—and it all starts at just $26,350 MSRP.
The Toyota RAV4 starts out with impressive mileage, like up to 41 city MPG and 38 highway MPG in the hybrid model and 28 city MPG and 30 highway MPG in the gas-powered model.
And that's not all.  To start, you'll find three distinct driving modes in the Toyota RAV4 for maximum efficiency on every type of terrain and road surface. And with the ECO driving mode, you'll see the most out of your vehicle's fuel efficiency on every ride.
Get behind the wheel of this new Toyota vehicle and you'll enjoy comfort and entertainment features that improve vehicle efficiency and reduce its impact.
Dual-zone climate control means every passenger is comfortable and that cooling settings can be kept on low. It also comes with a stop and start engine system, which saves energy by turning off when not in use.
With the new Toyota RAV4, you have your choice between an Ultra-Low Emission vehicle rating and a Super Ultra Low Emission vehicle rating.
Experience Toyota RAV4 MPG today
It's all available right here at Toyota Chula Vista. Visit our dealership to test-drive a new Toyota RAV4 and all its efficiency features today.