Get Toyota Repairs in Chula Vista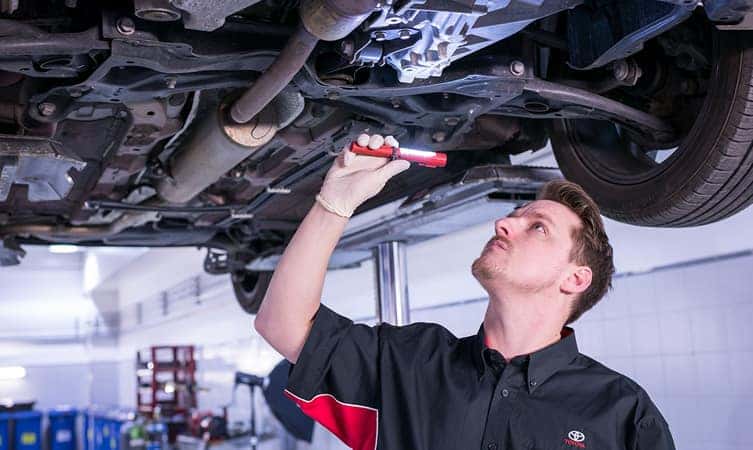 Toyota repairs are often required after a vehicle has experienced an accident or damage from inclement weather. We know you have enough to deal with. That's why Toyota Chula Vista is here to help you get the Toyota repairs you and your vehicle deserve.
Common Toyota Repairs
Our Toyota vehicles are designed to last, but it's always helpful to know about common repairs and upgrades for when you need them. Here are a few of the repairs we offer at Toyota Chula Vista:
Replacing Brake Pads: Brake pads wear down every 30,000-60,000 miles. If you hear squeaking or squealing, your vehicle vibrates at stop, or you notice that your stopping distance is getting longer, it's a sign your vehicle needs new brake pads and a brake inspection.
Dent Repair: Dents happen. If you want to get your new Toyota running with pride, then trust Toyota Chula Vista to give you repairs and a smooth finish every time.
Tires: There are many reasons a tire might need to be replaced. We make it easy to find your next set and tackle any type of terrain in your Toyota vehicle.
Alignment: One of the reasons we check the tires is because vehicles with uneven tire wear may actually have an alignment issue. We'll do a complete inspection and determine if we can safely put your vehicle out on the road.
Why Get Toyota Repairs at Toyota Chula Vista?
When you make Toyota Chula Vista your number one spot for Toyota maintenance, then you'll find our expert technicians who always use Toyota parts on your vehicles, as well as rolling specials and deals on cars, parts, and services.
It's all available right here at Toyota Chula Vista. Schedule your next appointment with our service team today.